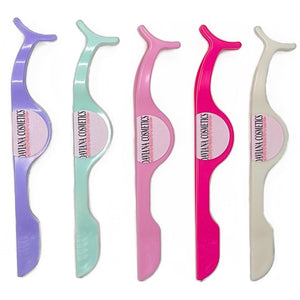 What is it?
An easy-to-use, dual-ended false-eyelash applicator that helps you apply and securely attach any false lashes perfectly every time.
What else should you know?
This applicator's design features a curved end to grip lashes and a silicone tip to set them in place. Its comfortable handle makes application easy with flawless results, whether you are a beginner or experienced lash wearer.
How to Use:
Step 1: Carefully remove the false eyelash and put on the stand.
Step 2: Clip the false eyelash and hold it gently.
Step 3: Add eyelash glue along the false eyelash root.
Step 4: Hold the eyelash on the root of your natural lashes with a bit pressure. 
Material: Plastic